To serve as an organized liaison between the students and faculty of York University School of Nursing.

To provide peer support within the nursing student body during their transition and encourage student participation in professional nursing organizations. 

To participate in outreach programs that involve local and global communities.

To coordinate social events for nursing students and faculty.
VISION AND MISSION STATEMENT
Vision
The Nursing Students Association of York is an organization which promotes a healthy learning environment that supports nursing student's passion for the nursing profession while enhancing the professional relationship between faculty and students.
To strengthen and unify the voice of York University Nursing Students by:
 Advocating for students' interests and ideas to enhance learning.

Supporting students in their academic endeavors.

Building a strong social support and relationship with fellow nursing students and faculty.

 Promoting opportunities for members to participate and be actively involved in both local and national community outreach programs.

Encouraging student's passion for the nursing profession.
OUR STATEMENT ON DIVERSITY AND INCLUSIVITY
In keeping with NSAY's mission, we are committed to providing an environment that is free from racism, prejudice, discrimination, and harassment. 
NSAY ORGANIZATIONAL STRUCTURE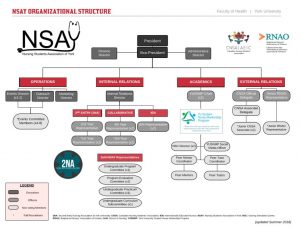 NSAY Organizational Structure